Share Registry Operations

BENEFIT FROM UNMATCHED EXPERTISE & SERVICE QUALITY
Would you prefer a small Share Transfer Agent who is unqualified or a large player who does not have a personal engagement with his client?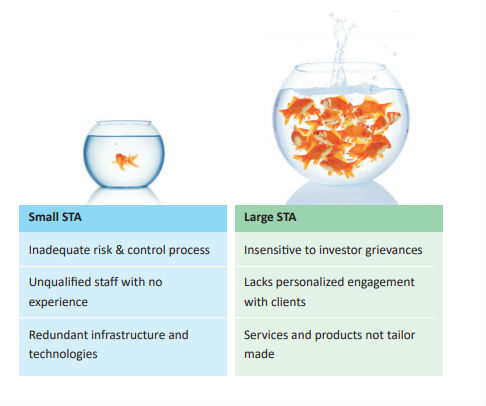 OR a partner who carries the capabilities of both a large and a small Share Transfer Agent and provides the best of both worlds?
Welcome to GNSA
Our comprehensive share transfer platform and services and our time tested strength and stability will ensure that you get the best support.
STA Advantage
Personalized services
- Delivering the best investor experience at every touch point.
Trusted Advisor
- STA is staffed by professionals with extensive experience in investment related services.
Professional Team
- Professional leadership team who are SEBI - NISM certified
24 X 7 Access
- 24 X 7 Online System access to client for viewing standard reports
Quick turn around Time
- Quick turn around in handling investor grievances
- Ability to deliver reports in a short turnaround time
Accounting platform
- Home grown Share Accounting platform with separate value add modules
Compliance
- Ensuring Compliance to Statutory requirements
- Highest Security Compliance
For enquiries, please get in touch with -
N. Krishnakumar
Tel : +91-44-42962025
Mob : +91-9600017104
Email :
krishnakumar@gnsaindia.com
,
sta@gnsaindia.com
CIRCULARS/NOTIFICATIONS/
FORMS
Job Seekers
We believe in empowering our employees to deliver and perform in a manner.